Couture Sewing Techniques
When sewing your own clothes or sewing for someone else, the little things make a big difference. The application of couture sewing techniques or hand sewing techniques to your garment will produce that high-quality professional designer look you desire. And producing hig-quality professional looking garments can increase your potential to earn more money.
Couture sewing refers to the creation of exclusive fashions, requiring time, patience, refinement of basic sewing skills and a commitment to excellence, wouldn't you want to apply the tecniques to earning potential?
Couture sewing is not a 10-minute, instant gratification process. You must pay close attention to the details: from the selection of the fabric to the very last blind hem stitch.
Couture is used by design houses, couturiers, and custom tailors to sew creative made-to-measure exclusive, one-of-a-kind garments. It is made from high-quality, expensive fabrics and sewn with extreme attention to detail from start to finish.
Most of the couture sewing techniques are for the inside of the garment and may never be seen by others. There is nothing mysterious or awesome about any of these methods. They are actually quite simple and easy to do, and can be incorporated into your design.
Always remember that it is often the hidden details that are the true mark of quality. You cannot help but feel a personal sense of pride each time you see the inside of your professionally finished garment. And, of course, wearing lovely things next to your skin is like wearing exquisite lingerie...it envelops you with a priceless feeling of luxury...don't you agree?
In addition to giving your garments the fine finishing and beautiful detail that are the mark of a couturier, these "extra little somethings" go above and beyond the actual construction to increase comfort, convenience, fit and wearability. And, if you are applying these couture sewing techniques to garments for clients, be sure to add your personalized clothing label inside your finished product. See more about labels in my recent article.
Applying couture sewing techniques to your pattern, will always put you in a position to know:
Your garment will close neatly and easily
Everything you sew will hang and drape beautifully
Your garments will retain their precisely controlled shape
You never need be embarrassed by the appearance of an open jacket or a dress on a hanger
You will be as proud of your creation on the tenth wearing as you were on the first.
Elements of couture sewing techniques enhance your garments, creating your own sense of style and sophistication. Your elegant expertise will be admired by all who appreciate the beauty and quality of the very finest couture.
Lining and underlining are the hidden components of fine dressmaking that, although not immediately visible, are always reflected in the finished effect of your garment. They assist in creating and retaining the shape of your designs, but also give them a more luxurious look and feel. They are a "must" in all couture garments, and you should consider applying them to yours.
Some of the well known elements of beautiful couture sewing are:
Fitting and perfecting a muslin copy

Selecting elegant luxurious fabrics

Decorative surface techniques and embellishments such as bound buttonholes and welt pockets.

Beautiful to behold inner garment construction methods (seam finishing), that are integral to the overall garment design.
Some fascinating couture sewing techniques consist of the following:
Finishing of seams and blind stitch hems

Hand-sewn bound buttonholes also called couture square button forms

Hand-finished seam edges

Hand-sewn linings

Boning
Get detailed instructions on how you can add a touch of couture to any pattern in my popular ebook,
"Sew-It Like a Pro".

For a limited time you can download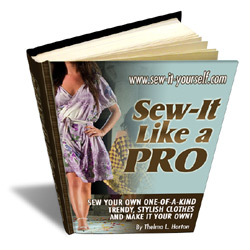 And 2 FREE Bonus Books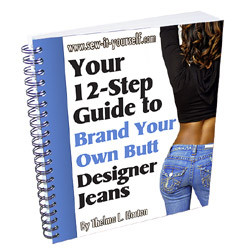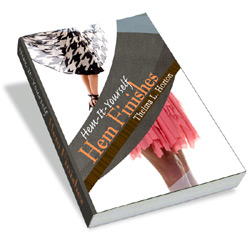 for the incredibly low price of $27 and have it downloaded to your computer in seconds!