Discover How to Sew Your Own Stunningly, Fashionable Clothes…Then Watch Your Friends And Family Pass Out From Amazement When You Tell Them You Sewed It Yourself!
Yes, in under just 72 hours, you can sew a beautiful summer dress or a casual pair of linen slacks, for less than a pair of $200.00 designer jeans, and have lots of fun doing it!
Dear Fellow Sewing Professional,
If you're like many sewing enthusiasts that come by my site, chances are you're probably looking to find the best resources on how to:
sew your own clothes
sew for your babies

sew for your pets

sew furnishings for your home

sew at home for profit

You also want to choose sewing patterns that will flatter your individual body shape and how to sew unique items that are unlike anyone else's.
If you have ever dreamed of wearing pants or jeans with the perfect fit and hang… a summer sundress that accentuates your figure… or just simply how to set up a sewing workspace and alter or grade sewing patterns to your body type – then this is the most important sewing site you will ever visit!
*WARNING*
Do not purchase any online sewing classes or instructions unless they meet the following important criteria…
Easy, step-by-step instructions

Eliminate trial and error

Expert techniques

Encourage creativity
Read on to find out more!

My name is Thelma, and I learned how to sew adult clothes as a young child… My mother thought it was a good summer pastime. So, in addition to my baby-sitting jobs… I also made dresses for the mothers…
What a way to make money, right?
Sewing became my passion!
I took courses in high school, graduated from college with a degree in Vocational Home Economics… And: I taught hundreds of high school students to sew for the very first time!
Also as a business executive – the last 20+ years – I have been heavily involved in retail, customer service, sales, sales management, and project management, helping businesses achieve great success.
I have found great relief from stress using my creativity in:
sewing wedding dresses

prom dresses

children's clothes

baby quilts

tailoring suits and jackets
I have also done countless alterations on ready-to-wear clothes to get the perfect fit for many clients. Therefore I decided to put this site together to help you overcome some of the challenges I have already gone through so will have an easier time in creating your own one-of-a-kind outfit.
In the next 10 minutes – you will be absolutely amazed to discover how to…
Save major dollars, learning how to sew your own affordable clothing and making garment alterations.

Save time and effort while you create your own look.

Design amazing clothes and learn how to find your best fashion colors.

Stop shopping store-to-store looking for that perfect style that best fits you.

Emphasize the best areas of your body, camouflage or minimize any flaws.

Create your own unique label like some of the well known celebrities as: Gwen Stefani, Venus & Serena Williams, and the designers on Project Runway.

Forget about expensive designer names, discover how you can "Brand Your Own Name" on your creations with designer sewing instructions.

Never shop ready-to-wear again. You can establish your own brand. Don't you just hate purchasing a new outfit, wearing it out, then seeing 3 other people in the exact same outfit?

Master every sewing technique you will ever need to turn your home sewn clothes into professional looking outfits.

Knowing little fashion sewing tips and techniques makes the difference between the homemade look and the professional store bought look. Friends and family will constantly ask, "Are you sure you made this yourself?"

Use simple foolproof ways to predetermine whether anything you choose to make flatters your figure.

One of the benefits of sewing your own clothes is being able to choose patterns with design elements that will flatter your shape and body type.

Wear a different look every day.

Alter or grade garment patterns for your best fit…how to make sewing pattern alterations.

Whether you're tall or petite, you can adjust sewing patterns to flatter your body type. You will downplay certain body features and enhance the curves.You will create pants that create a great line that goes down the body and slims the thighs.

Combine style, fabrics and flattering colors that accentuate the lines of your sewing pattern and enhance your assets.

Transfer your sewing skills to make anything you want including dog clothes, baby diaper bags, crib bumpers and christening gowns.

Sew neck pillows, decorative throws and pillow covers for home.

Learn about sewing at home opportunities to make money at home sewing.

You are literally 24 hours away from learning how to apply these techniques to sew anything you desire…
Inside "Sew-It Like a Pro" we will give you the step-by-step guide to discover exactly how to create your own designs:
Where to start sewing and what to teach in a sewing class…page 3
Why fit is so important…page 8

Select a pattern for your individual body type…page 19

How to read a sewing pattern…page 26
How to grade garment patterns and alter patterns to fit…page 35

How to cut-out your fashion fabric, lining, and interfacing…page 41
Proper pressing equipment and techniques…page 44

Sew at home for profit…get in the business of teaching sewing: teach garment sewing for teens and children, do alterations, custom tailoring and dressmaking business…page 50

Sew anything you want, including baby clothes, pet clothes, toys and home furnishings…page 53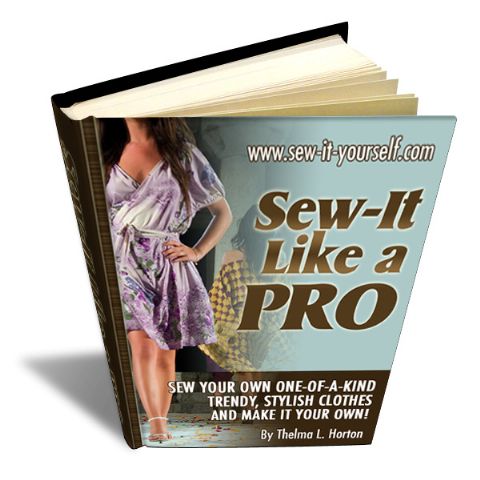 Here's how this information has dramatically changed the life of other sewing enthusiasts without spending a fortune…
"After reading your book, I was inspired to start applying some of the things you talked about by replacing some of the missing buttons on my clothes.  I had a can full of extra buttons and a closet full of clothes missing them.  I didn't have a clue that I needed a certain type of needle to sew on buttons until you discussed the different tools required for sewing. Whenever a button came off of one of my favorite jackets, I would replace the ones with a shank with a safety pin, and camouflage the others with a scarf or some other accessory.
Sewing on a button was difficult for me because I was afraid the needles would go through my finger, unaware that I should use a thimble, or a larger size needle. I also sewed the buttons on too tight, which made my jacket front line-up unevenly.  I called one Saturday night around 10:30 for help and you walked me through the process over the phone.
So, not only do you have a great book, but the personal attention you provided encouraged me to take out several other jackets missing buttons and put them on that night.  I wore a jacket that I had not worn in a long time the next day."
Jennifer Aitsebaomo, Missouri City, Texas
"I know your book will be great in helping others to sew just based on the information you have shared with me over the years, and my observing your work from two perspectives.
One, from the alterations you've done for other people's ready-to-wear clothes, and second from the prom dress you made for my daughter, Inez.  That was my daughter's favorite prom dress.  It was beautiful, and she passed that dress around. She even allowed her cousin to wear it to her prom.  That dress became the community dress, everyone that saw it fell in love with it because of it's uniqueness.
Not only are you are great seamstress, but you have no bones about sharing your knowledge.  I have learned so much from your expertise, and I am excited that you have put the information in book form to teach and inspire others to sew."
Renata Goodwine, Dunwoody, Georgia
"I find your book, "Sew-It Like A Pro"  an easy read for the beginner or for someone who has been sewing forever. It's easy to navigate through.  Your book is  humourous and gets you excited about creating your own masterpiece, your own design.

Above all, I find that with it's twelve simple steps, its helps the stress level of not knowing something, become so simple. There is also no fear from the unknown of not ever having sewn before or embarking on a new creation.  But with this book, 'Sew-It Like a Pro', it is so easy, and so simplistic.  I am so enthralled by it.
It's a book I'd recommend to anyone who is ever getting started in sewing."
Debra Booker, Houston, Texas
"Hello Thelma,
I was really inspired after reading the information on your website and encouraged to see so much talent. I have been sewing for my girls (self-taught) for several years, and really wanted to know more.
Thanks for the very informative information in your book, 'Sew-It Like a Pro' and all the wonderful tips that can help make the difference in sewing professional-looking clothes.
Also, do you have another website with photos of garments that you actually made yourself?  If so, I would love to see them!"
Nichelle Brown, New Haven, CT
*WARNING*
There are tons of phony and misleading sites out there, make sure any information you are considering includes instructions to create your very own one-of-a-kind outfit:
| | |
| --- | --- |
| | How to get the perfect pair of pants/jeans the way you are today – not someday – Look your best the way you are now! |
| | Dress in the latest trendy hot clothes that you created yourself. |
| | Select high fashion fabrics, apply high quality, couture sewing instructions like how to hand sew a slip stitch that fashion designers use! |
| | Know exactly what essential sewing tools you need for unique sewing projects, like in home ec -crafts-sewing, classes; evaluate the products available to make the best purchase. |
| | Studies suggest that sewing can help you mentally…Learn a skill that lowers your stress levels, and allow your body to rest from the pressures of everyday life. |
| | Express your creativity by adding your own personal touch to a simple, stylish outfit in just a few hours. |
All of this is included inside our eBook, 
"SEW-IT LIKE A PRO"
It would cost you upwards of $300 or $400 just to learn how to sew the basics like many of the sites we've found.In fact, one prominent site charges $25 just for a simple lesson. It could cost you up to $125 to see how to sew the entire blouse.
-or-
You could hire me personally to teach you how to sew at $75/hr over 10 hours.It would cost you $750 to teach you how to sew, and that would not even scratch the surface of what is detailed in my eBook.In fact, when you apply what you learn from this eBook will last you a lifetime, and the cost for that is priceless.
-or-
For a limited time you can download
for the incredibly low price of $27 and have it

downloaded to your computer in seconds!
*NOTE*
The next 200 people to download "Sew-It Like a Pro", will also receive the following "MUST-HAVE" essential sewing bonuses:
This essential guide, "Hem-It Yourself Hem Finishes", will show you how to sew blind stitch hems in skirts, how to make a cuffed hem in pants and how to hem jeans.  You will also learn how to make hems not look homemade using horsehair braid in sheer fabrics, and add bias tape for hems, lace and silk fabrics. You get step by step hemming instructions…sewing hem techniques. This ebook is valued at over $17.95 and will soon be sold separately

$17.95 Value!

 
 

This essential 12-step guide to apply your knowledge to get your perfect pair of jeans for the way you look now.  Flatter your own butt with  "Your Own Brand" designer jeans. This ebook is valued at over $19.95 and will soon be sold separately

$19.95 Value!

 
 

BUT WAIT! Free Bonus

Get how-to sewing help.  Ask 3 of your hottest questions and receive one-on-one sessions to assist in your sewing projects.

That's a $299 Value!
Download "Sew-It Like a Pro" on my secure server below!
Eliminate the pain of trial and error that most people go through when learning how to sew…
You'll learn to sew clothes with ease! So: Now is the time to take action!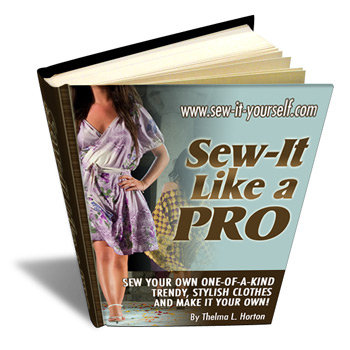 I am so confident you will have the know-how to save money, make money, and save time while creating your own expensive looking outfit for every occasion, that after purchasing my eBook, I am going to give you one full year to read and act on the contents of this ebook.
That's right, anytime during the next 365 days, if you are not absolutely blown away by the information in "Sew-It Like a Pro" and the two bonuses, I will refund the entire payment… no questions asked.
To your phenomenal success,
Sincerely,

Thelma L. Horton
P.S.  Remember, you'll look better than you've ever looked before in an outfit you sewed yourself, and when you've got a good look going on, you always feel more confident.
P.P.S.  Don't forget, you'll also get 3 one-on-one sessions as a bonus to help you with your projects.  You can't go wrong.  Give sewing a try, it could change your life.
Category: Blog, Books, Featured, Sewing Tips
About the Author
Thelma Horton is a Fashion Sewing Professional, Teacher and Author of "Sew it Like a Pro".
View Author Profile