My favorite go to pants whether it's summer, fall or winter is this Simplicity Pattern 7229 for a pair of quick and easy, casual pants.  I have used this pattern to sew many pants in linen, denim and wool, lined and unlined, with and without pockets.  Great pants for me.  Although this Simplicity pattern 7229 is out of print, I found that the New Look pattern 6399 is a very good alternative.
Let me know what you think.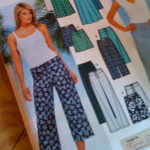 Category: Sewing Pants
About the Author
Thelma Horton is a Fashion Sewing Professional, Teacher and Author of "Sew it Like a Pro".
View Author Profile