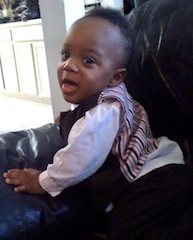 Sewing Clothes for Children
One of the many benefits of knowing how to sew is that you can sew clothes for children.  Most often you don't fully appreciate the skill until you need something different than what's
available for retail.  The something different could be the result of a wedding, school costume, family pictures, etc.
That's what happened with me.  My daughter wanted something for her son that was stylish, but not baby-ish.  And, she wanted it in purple.  As you can imagine, there's not much on the market for little boys in purple.  Nor, did she have the time or money to drive all over town to find the perfect color purple in something a bit mannish.  So, off to the nearest fabric store for a pattern, fabric and other supplies.
Sewing clothes for children does save money, especially when you're the one doing the sewing and it's fun. Additionally, since a child's body has not fully developed, you don't have to be concerned about sewing in darts or shaping seams.  Most seams in children's clothes only require stitching in straight seams.  
The same pattern was used a few months later to make an outfit to attend a wedding.  We just selected a different color and chose a fabric more appropriate for the occasion.  
Sewing clothes for children also counts as one of those special handmade items made with love for a special person by a special person that's always remembered and treasured forever.