How to Select a Sewing Cabinet
by eHow Staff Expert
Anyone who owns a sewing machine knows that buying a cabinet for it can save space in your home. Though some cabinets cost more than others, the space saved and the usefulness of the cabinet outweighs the cost of any cabinet. The following steps will help with your sewing machine selection.

Difficulty: Easy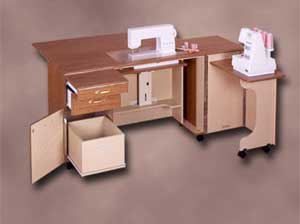 Steps

Step One: Know your budget. Sewing machine cabinets can get pretty expensive when you get into the more detailed ones so know what you're willing to spend for what you need.

Step Two: Check online and in consumer magazines for reviews of various cabinets. Narrow down your choices.

Step Three: Examine the space available. Know how much space you have set aside for one in your home. Take measurements so you don't buy something too large.

Step Four: Make an options list. This list includes everything you'd like your sewing cabinet to have. The following is a list of possible options available: ironing space, locking wheels, large work space, piano hinges for extra strength, holders for patterns, organizers for thread spool holders, storage bins, drop-leaf cutting surface, rolling cart for serger or second machine, shelves, locking doors and color.

Step Five: Decide which options best suit you. Some options may be frivolous, so try to think conventional.

Step Six: Purchase your cabinet. Save your receipt and all packing materials in case you need to return the item.

Overall Tips & Warnings

Some sewing cabinets are much larger than others so be sure to measure the space you've set aside within your home.

Another thing to consider is whether or not you plan on moving your sewing cabinet often. If you need to move the cabinet often be sure to consider the weight of the cabinets so you have enough wheel support and will be able to move it easily.

Knowing your budget is very important because you could easily go over without realizing it.


Find this article at: http://www.ehow.com/how_2002880_select-sewing-cabinet.html