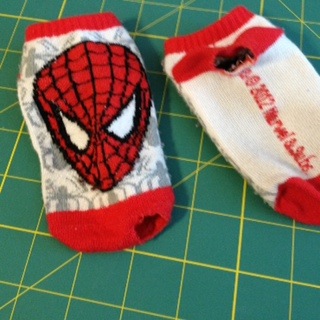 How to Repair Holey Socks
Did you know you can repair holey socks quick and easy using your sewing machine zigzag stitch.
Don't throw them in the trash yet. You will be the superhero to your 3-year old if only for a minute.
This short video shows you how to sew close the holes in a little person's favorite pair of superhero socks.
Adjust the width of your sewing machine's zigzag stitch to the widest stitch and change the stitch length to a short or medium length.
Depending on the color, match threads to coordinate with the socks needing repair. Stitch one row of zigzag stitching, being sure to catch the top and bottom layers of the sock within the row.
Then run a second row of zigzag stitching over the first row to reinforce the seam.
Repeat the process until you have repaired all the holes that your little spiderman has created; you will be the hero.